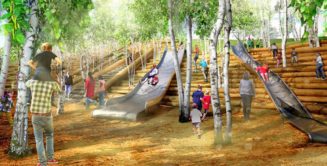 Picture yourself in a new park on Governors Island. What you would do there?
What would you see?
What if you were on a new waterfront Great Promenade looking out at the Statue of Liberty? What would it be like?
On a few select weekends this fall, we'll be inviting visitors to tell us their ideas for our new 40-acre park and Great Promenade and have their picture taken and digitally inserted into thier favorite conceptual vision for that new park.
If you've had your photo taken at our photo booth, visit our Flickr page and download your picture!
Check back with us to find out about upcoming photo booth dates or sign up at info-gipec@empire.state.ny.us for updates about Governors Island park planning and other events.
The photo booth is just one of many ways we'll have for you to get involved with the future park plans.